Home of the Big Dude
Serving Sandwiches Hot, Cold, and Vegetarian
Family Run × Since 1972
(951) 683-4523
Delivery Now Available!
(951) 683-4523
Catering
We do a lot more than just French roll subs! Don't run around getting potato salad from the market, sandwiches from us, and plates from somewhere else - We do it all! In one stop, we will take care of your plates, napkins, forks, ice, salads, relish trays and cookies for that finishing touch!
Sandwich Tray*
Our most popular catering item. Great for office or home parties, partly because there's very little notice. Twenty 3" pieces of top 5 sellers like turkey and provolone, the Big Dude Italian combo, lean roast beef and cheese, a club sub and some vegetarian, like avocado and cheese with marinated cucumbers, on wheat. All laid out on a decorative platter with toothpicks and olives ready to eat. Feeds approximately 15
$59.99
*We recommend that you pick up your tray 30-45 minutes prior to serving for maximum freshness. If you must pick it up earlier than that, request your sandwiches dry with our secret sauce on the side!
Finger Sandwich Tray
Assortment of bite size delicacies like cream cheese & cucumbers, lean roast beef, turkey & swiss, tuna salad, or avocado & cheese - spread lightly with garlic butter on your choice of breads, sourdough, wheat, marble, or rye. 75 piece tray
$59.99
18" Ring Bread
French bread shaped and baked in an 18 inch circle, filled with your choice of meat and cheese, lettuce, tomato, and our own "Secret Sauce." Feeds approximately 18
$59.99
Veggie Trays
Crunchy carrot sticks, cucumbers, black olives, sliced dill pickles, chili peppers, and pepperoncinis, stacked high on a tray with creamy ranch dip in the center - feeds approximately 25-35
$33.50
Meat & Cheese Platter
Thinly sliced white turkey breast, well done roast beef, American ham, Swiss and provolone cheese - a hearty platter, approximately 7 lbs. Made to feed approximately 25-30
$59.99
Extras
Potato or Macaroni Salads - Delicious!
Recommended feeding - 4 people per lb. - packed in 2 lb. increments.
$3.99/lb.
Cookies
Great tasting cookie assortment to top off that party. Delicious double chocolate fudge, chocolate chip, oatmeal raisin, and peanut butter.
$4.99 doz.
Paper Goods
Price is per setting. Includes sturdy paper plate, 16 oz. cup, napkin, and fork.
$0.30
Canned Soda
Yes, we do that, too .....comes w/free ice.
$1.00 p/can
OUR GIANT PARTY SUBS
Don't be fooled by others ... Our giant party subs are usually a "FULL" "6" wide for maximum feedability and come in sizes 3 & 4 feet. All giant party subs are custom made to fit your particular needs, because not everyone likes the same meats! Choose whatever you like - At no extra charge! If you would like two different taste combinations, you can have half of it turkey and cheese and the other half perhaps the "Big Dude", Italian combination. Vegetarian? No problem, we can do part of it avocado, cheese & marinated cucumber. Comes sliced and ready to go at no extra charge!
THE PRICES ARE:
3 ft. (feeds 15) - $59.99

4 ft. (feeds 20) - $74.99
Large SCale Catering
Need to feed 100 or 1,000? Good! The Sub Station is your "go to" place for large projects.
We do individually bagged lunches for small projects, or multiple sandwiches packed 20 per case and nicely labelled for your easy distribution.
Some of our largest projects were with Kaiser Steel back in the day for 3,000 people. We've done 1800 for the college of Natural Science at UCR. We've also fed 200 for EZ-UP tents, and most recently Project 900 for a local medical facility. We just finished bagged lunches for a First Responders event at Crestmore Manor, where we did a sandwich, chip, cookie, and a napkin.
Our stellar reputation for being a "get 'er done." makes us your first call for all your big projects. Contact Richard for a personal quote.
Yes, we take company and government purchase orders!
Located across from UC Riverside, The Sub Station has been serving up delicious sandwiches for students and Riverside residents since 1972.
Photos by Carrie Johnson
Specialties
We seat over 100 people in a casual old school environment with an outdoor filtered patio. We serve great tasting "East Coast style" sub sandwiches,soups, salads and Bottled beer. Our sandwiches start with a fresh Italian roll filled with your choice of meats and cheese, garnished with shredded lettuce, fresh cut tomatoes, seasonings and our signature "Secret Sauce" dressing.

We serve up Hot , Cold and Vegetarian sandwiches. Our Avocado and cheese with marinated cucumbers on the Wheat roll is one of our popular health conscious options. Other healthy options include our selection of salads. Try our Chicken Garden Salad w/ 7 vegetables, a pair of bread sticks and your choice of Ranch, Italian or Balsamic vinaigrette.

Our "lean" pastrami comes from the eye of the round, a special cut w/ little or no fat, East Coast style, with mustard and a pickle or West coast with lots of veggies on it. Our Meatball sub is in a rich red sauce, with 3 kinds of cheese, red ripe tomato slices, and served on the Italian roll.
Phone
(951) 683-4523
Location
3663 Canyon Crest Dr.
Riverside, CA 92507
Hours
Mon-Sat 9:30 am–7:45 pm
Sun 11:00 am–4:00 pm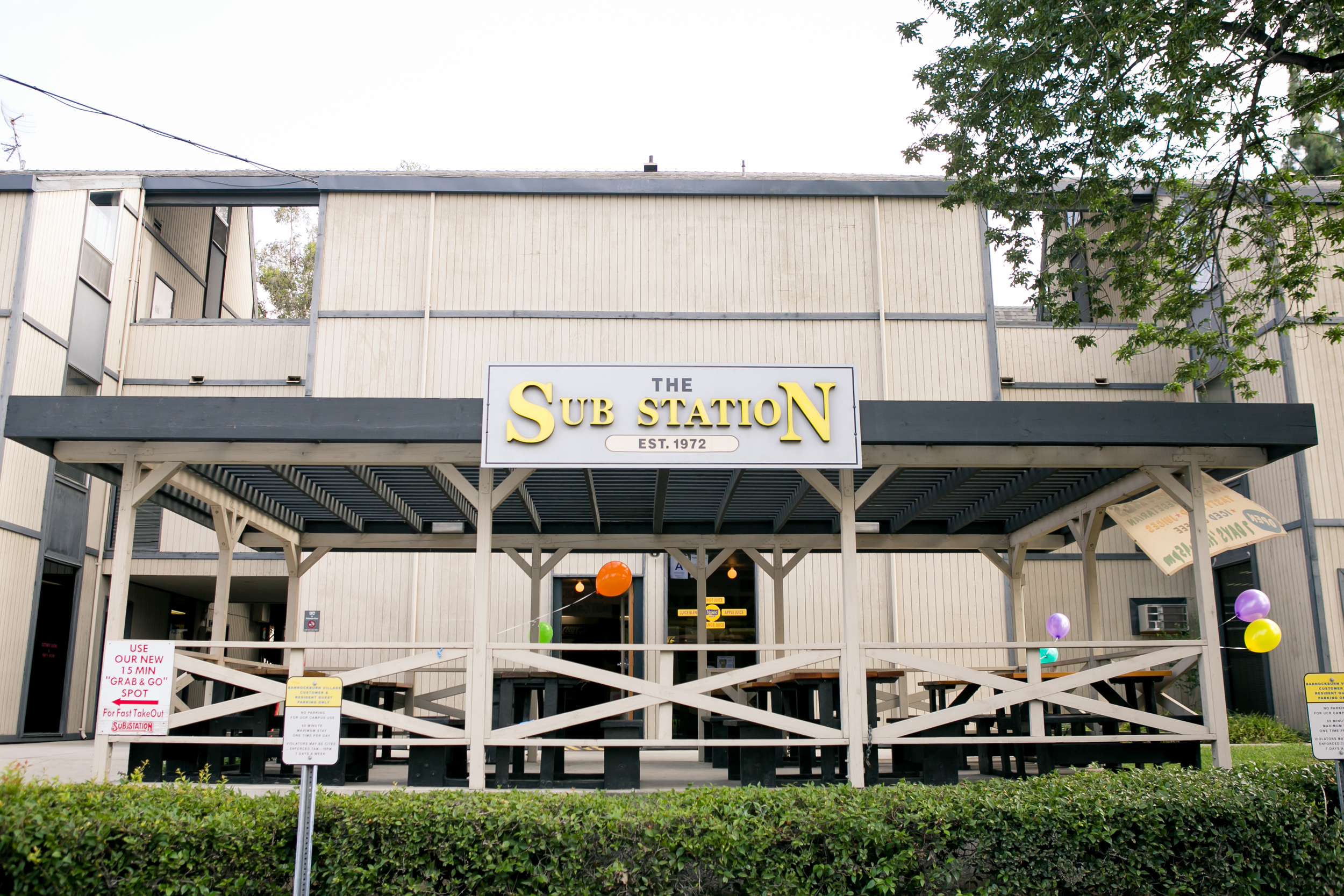 Established in 1972
History
The Sub Station is one of the oldest eateries in the city of Riverside. Founded right here near UCR in 1972 we have a stout reputation for great food, fun and employees. Under the same ownership for 43 years our East coast style subs have remained the same for 4 decades, because of our uncompromising effort and passion for serving great food.

Everything in the restaurant that you see and sit on is original. Every table and bench was built by hand by Richard and his Father. With a small budget Richard had to rely on all the carpentry experience he gained from his Dad growing up. Today his fathers passion for wood continues to live on through Richard.

The Sub Station has always been about people. Our great employees and "you " our loyal old friends and soon to be "new friends". Come experience the Sub Station...its like coming home!
Meet the Business Owner
Richard M.
Business Owner
Although Richard grew up a "Jersey Boy " he started college in Colorado and finished by graduating from Chico State up in Northern California. He was immediately drafted and spent 12 months in Vietnam. Upon returning home he grew a bodacious "afro"and shortly thereafter opened The Sub Station along with his college roommate who left the company a year later. Over the last 43 years The Sub Station has become a local favorite and one of the oldest eateries in Riverside.
Phone
(951) 683-4523
Location
3663 Canyon Crest Dr.
Riverside, CA 92507
Hours
Mon-Sat 10:30 am–7:45 pm
Sun 11:00 am–4:00 pm
We are located at 3663 Canyon Crest Drive, Riverside, CA. 92507
Meet our Subbers! We have been employing college students for over 43 years.
A learning experience
The Sub Station is more than just a job. Being family run it has a sense of community. Teamwork, respect, and responsibility are values that pervade the experience of being a "Subber". The symbolic relationship between the owner, the valued customer, and the valued staff all work together for a common dining experience and sense of "pride" in your work.

The Sub Station is not your average college job. When becoming a Subber you not only get to join our family atmosphere but you get to participate in fun adventures like trips to the lake, camping, employee dinners and many more. Beyond all the great events you will make everlasting friendships that last a life time. You may even meet your future husband or wife here. We have been known to produce more than a few weddings over the past 43 years!
INTERESTED IN JOINING OUR CREW?
We are always looking for the next generation of Subbers to join our crew. If you are interested in becoming part of our fun team please email your resume to substationucr@gmail.com or come visit us and drop one off in person. We look forward to meeting you soon!
Phone
(951) 683-4523
Location
3663 Canyon Crest Dr.
Riverside, CA 92507
Hours
Mon-Sat 10:30 am–7:30 pm
Sun 11:00 am–4:00 pm